About Us -- Kathy Mirakovits
Nine months out of a year, Kathy Mirakovits teaches forensic science and advanced physics to high school students in Portage, Michigan. Kathy was honored to receive the 2011 Distinguished Service to Physics Education Award from the Michigan Section of the American Association of Physics Teachers.
For the past ten years, Kathy Mirakovits has conducted outstanding workshops across the United States for teachers interested in learning forensic science and its application in science education. Kathy has developed numerous forensic educational kits and materials for use in the classroom.
See Kathy in action on YouTube!
Kathy received training in forensic science by attending forensic science workshops sponsored by the American Academy of Forensic Sciences, 4 weeks of forensic science training at the Connecticut State Crime Lab, completing the basic bloodstain analysis course for certification. She is a member of the International Association of Bloodstain Pattern Analysts (IABPA).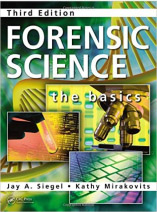 Kathy Mirakovits co-authored the textbook, Forensic Science: The Basics, with Dr. Jay A. Siegel. The 3rd edition of the textbook was published, which is fully updated to reflect current best practices, and includes three new chapters on the use of detector dogs in forensic science, forensic engineering, and digital evidence & computer forensics.
Kathy also co-authored The Basics of Investigating Forensic Science: A Laboratory Manual, with Gina Londino. This lab manual is an excellent companion to the textbook but it can also stand alone as a lab manual for beginning forensic science lab courses. The labs are divided into five units: Forensic Science and Crime Scene Investigation, Patterns and Impressions, Forensic Biology, Forensic Chemistry, and Forensic Physics.
Teachers may request an examination copy of both the textbook and the lab manual through the publisher via the following links:
Textbook: https://www.crcpress.com/Forensic-Science-The-Basics-Third-Edition/Siegel-Mirakovits/9781482223330
Lab Manual: https://www.crcpress.com/The-Basics-of-Investigating-Forensic-Science-A-Laboratory-Manual/Mirakovits-Londino/9781482223156